Ambra Milk 40% 4kg
Artikelcode: 80008349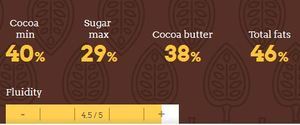 Full and clean taste of milk with delicate notes of cocoa, balanced sweetness.
Employment advice
In chocolate shop:
The calibrated fluidity and the perfect crystallization make it the protagonist in the frosting, with a glossy and subtle rendering, clean slit, balanced taste and light milk chocolate color. For refined coated pralines, nougats and specialties, for excellent fillings. Give the preparations an optimal coating. Also excellent for pure tablets, filled or with combinations of dehydrated fruit.
In pastry:
Recommended for mignon to cover and glaze, mousse and light cream; to flavor the fillings of all pastry production.
In ice cream parlor:
Great for a balanced and soft milk chocolate ice cream. Special in the combination with spices or with hazelnut, pistachio, almond; also suitable for obtaining the stracciatella effect.
---
« terug naar overzicht