Pro Intense DN 60%
Artikelcode: 80008323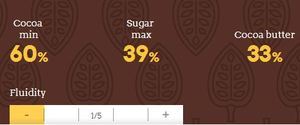 Dark chocolate coating for technical use, expresses itself best in professional use. The different balance between cocoa mass and sugar and a recipe with reduced cocoa butter gives it a strong and pronounced personality, even with only 60% cocoa. A strong and persistent cocoa flavour, bitter and gently cocoa, a well balanced acidity, dried and fresh fruit aromas are almost imperceptible.
Employment advice
In the cocolate shop:
By virtue of its technical characteristics, the product is placed in the technical and professional uses: in the production of ganache and fillings of the basic chocolate, even when assembled. Due to its intense and round taste profile, it can be easily and immediately customized. Not suitable for modeling, covering and printing hollow shapes.
In pastry:
To decisively flavor pastry creams, chocolate baked bases, but also in the production of catering and catering sauces such as chocolate sauce, profiteroles, etc. The particular recipe, rich in cocoa fiber, gives a dark and intense color to mousses and creams. Ideal for plastic chocolate.
---
« terug naar overzicht